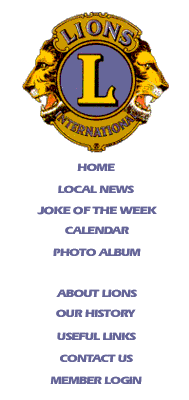 Serving the Community to help make a better way of life.
Serving the world to help others see.
Joke of the Week

My boss came in one morning and caught me hugging my secretary. He said in a rage, "Is this what I pay you for?" I told him, "Nope, I do this for free!"



A Scotsman walking through a frield sees a man drinking water from a pool with his cupped hand.

The Scotsman shouts, "Awa ya gowk yon's foo o'coos skitter." translation, "Don't drink the water, you fool, it's full of cow dung!".



The man shouts back, "I'm English...speak English, I don't understand you".



The Scotsman shouts back, "Use both hands, you'll get more in".