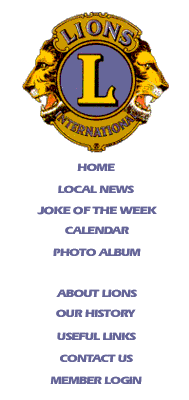 Serving the Community to help make a better way of life.
Serving the world to help others see.
Joke of the Week

People always say that hard work never killed anybody. Oh yeah??? When's the time ya ever heard of anyone who "rested to death"



A man returns from a trip overseas and, feeling very ill, goes directly to his Doctor. The Doctor runs a battery of test and admits him to a hospital awaiting results. In a few hours, the phone by the man's bed rings and it's the doctor. "I'm afraid I have bad news. You have a combination of Extensively Drug Resistant TB, SARS, Smallpox, and Ebola. I'm putting you on a special diet of quesadillas, tortillas, pita bread and pancakes." Stunned, the patient asks, "Will that cure me, Doc?". The Doctor says, "No, but that's all we can fit under your door!".